Peta Lokasi.
Rumah Rehat Seri Anggerik terletak di jalan besar masuk ke Kota Bharu. Kawasan ini pesat membangun dengan pusat perniagaan 24 jam yang telah siap dibina dan mula beroperasi pada hujung tahun 2008.






Supermarket, kedai dan pasar malam Wakaf Che Yeh berada lebih kurang 150meter dari rumah dan bandar Kota Bharu lebih kurang 3km. Banyak kedai dan gerai untuk makan pagi, tengahari dan malam dalam lingkungan 1 km dari rumah.


Klik Untuk Peta WikiMapia di sini

(GPS : N 6° 5' 21.7'' E 102° 14' 19.5'')
(GPS: Lon.102.238750, Lat.6.089361)


Walaupun anda berada dalam kawasan bandar, suasana kampung amat terasa.



Seri Anggerik Rest House is situated on the main road going into Kota Bharu.

The area is fast developing into a hub of commercial activities with a 24 hours shopping area being built close by and open for bussines end of 2008.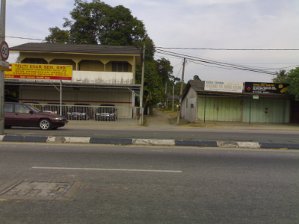 The house is located approximately 100 meters from a supermarket and Seven Eleven store, 150 meters from the wet and night market (Wakaf Che Yeh night market) and 3 km from town center of Kota Bharu. There are plenty of stalls and shops which sell food (breakfast/lunch/dinner) within one kilometer radius of the house.

Although nestle in the suburban of Kota Bharu, you can still feel the kampung (village) enviroment. Do strike conversation with our neighbours and you will be surprise of their friendliness and smiles.